Top cosmetic trends for 2019
Experts reveal the top cosmetic trends for 2019
Like it or loathe it, non-surgical cosmetic procedures are fast becoming common practice. They are more researched, tried and tested, and more medically, scientifically and technologically advanced than ever before. They not only address aesthetic requirements ,but also for health and pain reasons, often providing an alternative to traditional surgery.
With new treatments launching all the time, here two experts reveal their top cosmetic trends  for 2019…
CLICK THE IMAGE TO READ 'GLAMOUR' MAGAZINE ARTICLE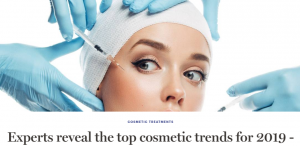 Chaelis Advanced Aesthetics offer a wide range of non-surgical aesthetics, health and pain treatments. From Dermal fillers to Vitamin B12 injections
For any treatment considerations, Chaelis Advanced Aesthetics offer a free consultation, this is your opportunity to ask as many questions as you wish about any treatments offered. Lesley Spencer, Clinical Director and Practitioner will guide you through the procedures, results and aftercare, with her 20 years plus experience in aesthetics.
East Northamptonshire's largest clinic of it's kind is located in the discreet, beautiful countryside village of Lowick, Northants. Only a 5 minute drive from the A14 junction 12. (Lane with the red phonebox, next to the Snooty Fox).
You can book your free consultation via our CONTACT PAGE