Non-surgical Rhinoplasty, a nose job without surgery (nose correction). Also known as the 'Liquid Nose Job'
This treatment is for people who want nasal contouring, but are not prepared to go down the route of plastic surgery.
The positives of non-surgical rhinoplasty:
Mildly invasive, it is reversible, the results are subtle, it is much less traumatic, it is more affordable and there is no downtime, bandaging, and very little swelling. And, very importantly there is no general anaesthetic.
Whereas with plastic surgery, you have general anaesthesia, it is highly invasive, there are obvious changes, the surgery causes trauma, it is costly, there is a downtime of approximately two weeks, bandaging, swelling, and often severe black eyes.
Treatment. Non–Surgical Rhinoplasty:
During the initial consultation, the client's problem area and expectations are discussed, a medical history is taken, and the client's permission is sought for before and after pictures to be taken.
Prior to treatment the patient is given topical anaesthetic cream. Although the dermal fillers used contain Lidocaine to make the process reasonably painless, the topical anaesthesia numbs the skin on the injection site.
The treatment usually takes twenty minutes the freezing cream to act, and ten to fifteen minutes for the injections.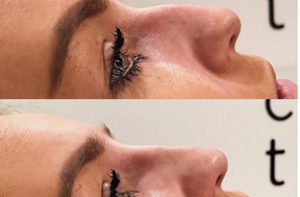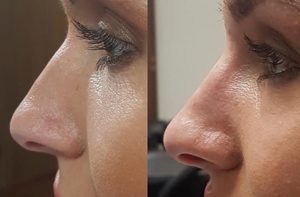 For each treatment you will be required to complete a medical consent form. See below for available forms.