United Kingdom, 2020
LUXlife magazine announces the winners of the Health, Beauty & Wellness Awards.
In many ways, the health, beauty and wellness industries are about the pursuit for perfection. The pursuit for happiness – whatever happiness might mean for an individual. It is also an ancient pursuit, with our ancestors looking for ways to improve their health or enhance their beauty or achieve a state of wellness.
With such a history behind it, the health, beauty and wellness landscapes have had time to flourish and transform into something extraordinary. Here, companies of all shapes and sizes have thrived through a dedication to betterment and innovation. The Health, Beauty and Wellness Awards was launched to determine and recognise the best of these companies, creating a special event to acknowledge world-leading products, services and experts. This year's winners are no different.
Awards Coordinator Jessie Wilson stated: "It has been a delight and an honour to reach out to the winners of this year's event. Congratulations to all of the individuals acknowledged, and I hope you have a fantastic year ahead."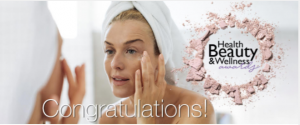 "I'm very pleased to recieve such a prestigious award. It was a real surprise, I  never thought for a moment my clinic would be nominated and selected as a regional winner.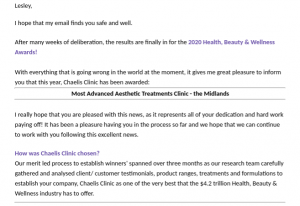 A big thank you to all my clients, suppliers and business associates who took the time to nominate my clinic. It is a real pleasure to work with you all.
I look forward to returning to work on the 4th of July, when the clinic officially reopens. If you need to get in touch, please feel free to call or email me at any time".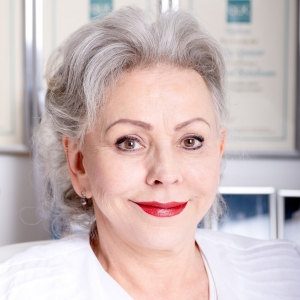 Lesley Spencer, Director and Clinical Practitioner
Chaelis Advanced Aesthetics
Lowick, Northants NN14 3BH
01832 733811  lesley@chaelis.co.uk   www.chaelis.co.uk