Anti wrinkle injections
Injection of Botulinum Toxin A into the small muscles between the frown lines temporarily paralyses those muscles, improving the appearance of wrinkles. Re-injection will be necessary within 3-4 months. Suitable for men and women.
For the following areas:
Lines and wrinkes
Forehead
Brow
Crow feet
Glabellar lines
Bunny lines
Smokers lines
Gummy smile
Dimpled chin
Neck lift
Hyperhidrosis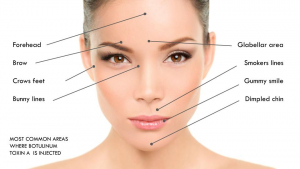 You will need to meet with our general practitioner for your prescription. As Botulinium Toxin A is a POM, advertising laws restrict the promotion of this product.
For each treatment you will be required to complete a medical consent form. See below for available forms.
Risks and Possible Side Effects:
Swelling Rash Localized numbness Flu-like symptoms
Nausea
Headache (on day one or, very exceptionally, can last for days or weeks)
Dizziness
Skin irritation
Pain at injection site
Bruising (a few hours or very exceptionally days, weeks or months)
Respiratory problems
Allergic reaction
Infection Ptosis (drooping)
Infection can occur and is easily treatable in most cases.
In rare cases permanent scarring can occur. However cleanliness is of the utmost importance around the injection site.
Most people will have raised pinkish lumps at the injection site. These can last for a couple of hours to several days.
Some side effects occur in 2-5% of clients.
Local weakness of the injected muscle is the expected pharmacological response to Botulinum toxin A.
Weakness of adjacent muscles may occur due to the diffusion of the toxin.
Botulinum toxin should not be administered to pregnant or breastfeeding women.
Find out more about our other treatments
Get in Touch
Sten Beren,
Main Street
Lowick, Kettering
Northamptonshire.
NN14 3BH
Telephone: 01832 733811
Directions
Add Snooty Fox, Lowick NN14 3BH to your SAT Nav Next to the pub is a lane with a red phone box on the corner, walk up this lane, follow round the left corner and it's the second property on the right. Open large wooden gates ( with a 'Chaelis' sign) and the clinic is a separate building behind the house (on the left).
On WHAT3WORDS app type: span.princely.remodels